Chicago Area Shortline Railroads
Madison Terminal
Reporting Marks: MDSN

History
Startup Date: 12/1/2010
Location: Madison, WI
Madison Terminal Railway, LLC operates 0.3-mile industrial spur owned by LN Real Estate, LLC,. The industrial spur originates at the connection with the Union Pacific Railroad Company's Cottage Grove Industrial Lead at milepost 78.02 in Madison, Wis., and is located entirely within the property of ProBuild Holding, LLC., the line was leased to Union Pacific and operated as part of UP's Cottage Grove Industrial Lead which is currently operated by the Wisconsin & Southern Railroad Company.
Madison Terminal Railway will operate as an independent common carrier performing transloading service for potential railroad freight customers at the proposed transload facility.
Madison Terminal Railway further states that it expects to enter into an interchange agreement with WSOR to provide inbound and outbound rail freight transportation services to Madison Terminal Railway's transload facility, but it will not operate on UP's line and will confine its operations to its line of railroad within the proposed transload facility. As a result of the transaction, Madison Terminal Railway states that it is a Class III carrier of an existing industrial spur that will be converted to a common carrier line of railroad that connects with UP's existing line.


Right of Way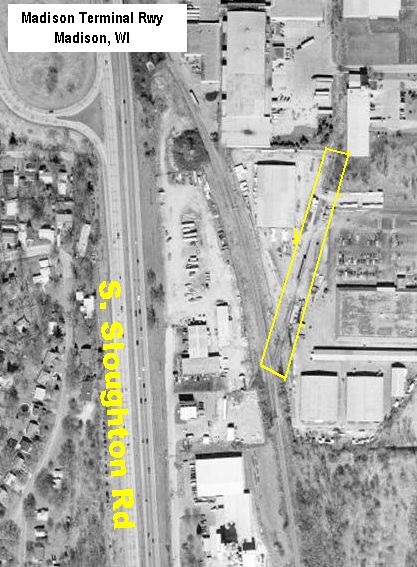 PHOTOS

Additional Resources
Company Web site: MTR - Madison Terminal Rwy





HOME | Shortline Railroads | Former Shortline Railroads | Industrial Railroads | Shortline Related | LINKS