Chicago Area Shortline Railroads
Burlington South Chicago Terminal
Reporting Marks: none

History
Incorporated: February 7, 1917
Construct a railroad from a point on the railroad of The Belt Railway Company near One Hundredth Street, in the City of Chicago, Illinois, thence extending southerly and southwesterly a distance of about ten ( 10) miles to the southerly limits of the City of Chicago, in the County of Cook and State of Illinois.
The property of the company consists of approximately twenty-nine acres of land in the South Chicago Dock Company's Addition, south of One Hundredth Street, in the town of Hyde Park, Cook County, Illinois, purchased by the company from the Elgin, Joliet & Eastern Railway, February 16, 1917, land is occupied with main and side tracks approximately 53,542 feet in length, together with roundhouse and other buildings. The tracks owned by the company are operated as side and terminal tracks and terminal property of the Chicago, Burlington & Quincy Railroad Company, which owns all of the capital stock of this company, and is also part owner of The Belt Railway Company of Chicago, whose tracks form a connection between the roads of said companies.
Acquired by the Chicago & Western Indiana RR in 1933, and leased to the Belt Railway of Chicago.



Right of Way

PHOTOS
Stock issue by the Railroad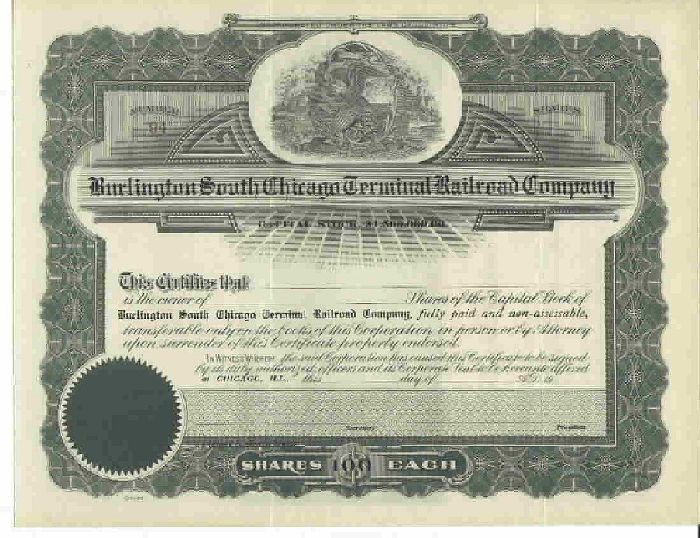 Additional Resources



HOME | Shortline Railroads | Former Shortline Railroads | Industrial Railroads | Shortline Related | LINKS