Chicago Area Shortline Railroads
Bridgeport & South Chicago
Reporting Marks: none

History
Incorp:: 3/23/1887
The railroad owned on date of sale, 0.42 mile of track along the Chicago River, South Branch, near Ashland and Blue Island Avenues, Chicago, Ill., had been acquired from the South Branch Dock Company.

Purchased by Chicago & Northern Pacific 3/11/1890, which was taken over by the Chicago Terminal Transfer.
The Chicago Terminal Transfer was purchased by the Baltimore & Ohio Chicago Terminal in 1910

South Chicago Dock history:
This company was incorporated February 19, 1859, in Illinois. The date of organization was March 23, 1859.
A statement of property by the secretary of the company dated April 1, 1859, indicates that it purchased a water frontage of 17,368 feet in city lots having an average depth of 244 feet, in "Greene's South Branch Addition to Chicago".




Right of Way

PHOTOS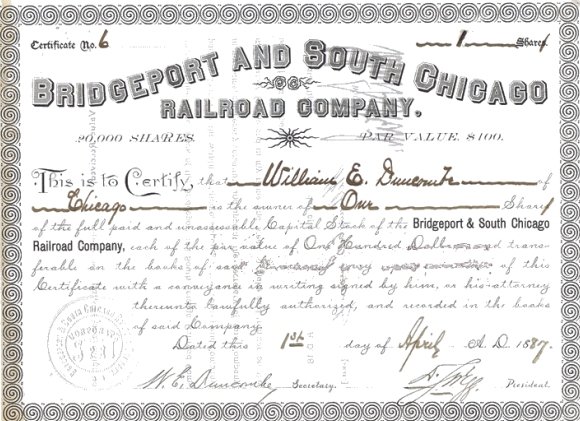 Additional Resources



HOME | Shortline Railroads | Former Shortline Railroads | Industrial Railroads | Shortline Related | LINKS